2016 Christmas Closure
25 November, 2016
Wishing everyone a very merry Christmas and a safe and prosperous New Year!
Inspired Homes will be closed over the Christmas break but we will be reopening on Monday 9th of January and will be happy to assist with any enquiries you may have!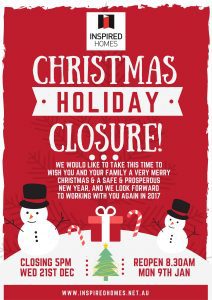 Be sure to get in touch with us today to find out more!
Phone: 9303 9985
Email: [email protected]