5 Must-Have Elements in Your Luxury Kitchen
Have you ever thought about why friends and family all seem to gather in a home's kitchen?
Engineered for meal prep and cooking, the kitchen has slowly evolved into a home's focal point. There are a number of luxury elements you can include in your next kitchen to transform your space into a high-tech cooking haven while comfortably entertaining friends and family. That's why we've rounded up our top five must-have luxurious kitchen elements.
1. Stainless Steel Appliances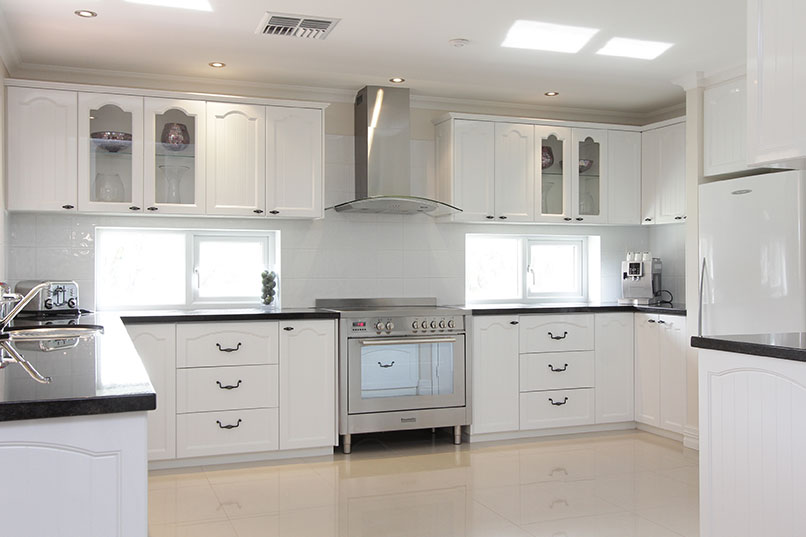 New stainless appliances are synonymous with luxury kitchen designs. This kitchen showcases a beautiful stainless steel sink, toaster, a high-end oven and stove top, and oven rangehood. Both beautiful and practical, the espresso machine nestled in the corner is perfect for brewing a hot flat white in the morning as you begin your day, or making a cup of comforting hot chocolate for the kids. These high-end 900mm stainless steel matching appliances create harmony while complementing the white colour scheme, and truly enhance the look and feel of this kitchen.
2. Engineered Stone to Kitchen Benchtops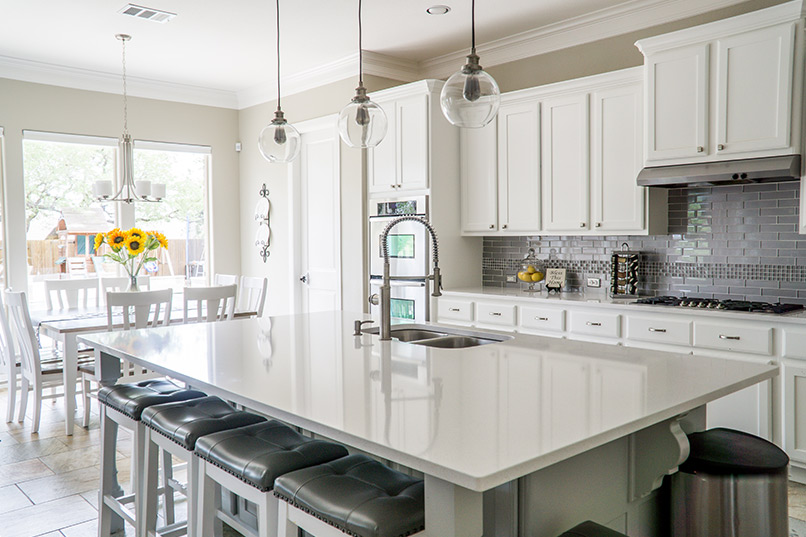 We're in love with the elegance of this kitchen island. Engineered stone to kitchen benchtops are high-tech, high-quality, and staples in luxury kitchens. When thoughtfully designed, benchtops can become sculptural furniture elements. Whether you're using marble or other high-end materials such as granite, limestone, quartzite, onyx, travertine, soapstone or quartz, investing in a high-quality, large kitchen island will transform your space from lacklustre to lavish. Enjoy excellent conversation, wine, and food with friends in the epicentre of your home.
3. Fenix Matte Black Kitchens

Kitchens don't get much more bold or sophisticated than this. This Fenix Matte Black kitchen is hygienic, heat resistant, water-repellent, anti-fingerprint, extremely durable and soft to the touch. Keep your kitchen stylish, safe and clean, even when you have messy little kids running around! This high-tech material is complemented by leather black bar stools and an industrial design. A touch of the natural wood in the cabinetry and work bench also adds colour and texture to the overall design. Instead of spending hours cleaning the kitchen after every big meal or dinner party, you'll be able to spend more time enjoying post-meal conversations with friends and family.
4. On-trend Cabinetry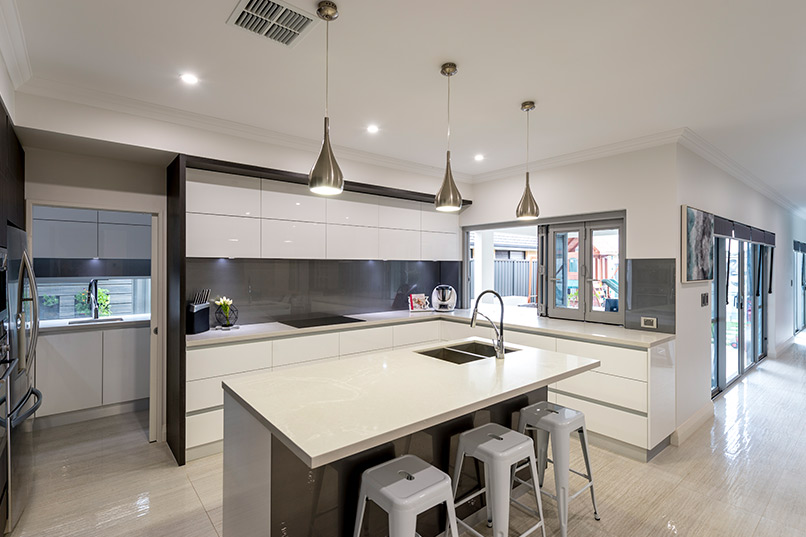 On-trend cabinets are a vital component of all luxury kitchens. Touch-catch mechanisms installed in these beautiful white cabinets create a sleek and sophisticated look without the need for bulky handles or knobs. Easily open and close your cabinet doors with a light touch. These cabinets are also safer for little fingers, easy to clean, and perfect for keeping unsafe or unsightly appliances hidden from view.
5. Mesmerise with Marble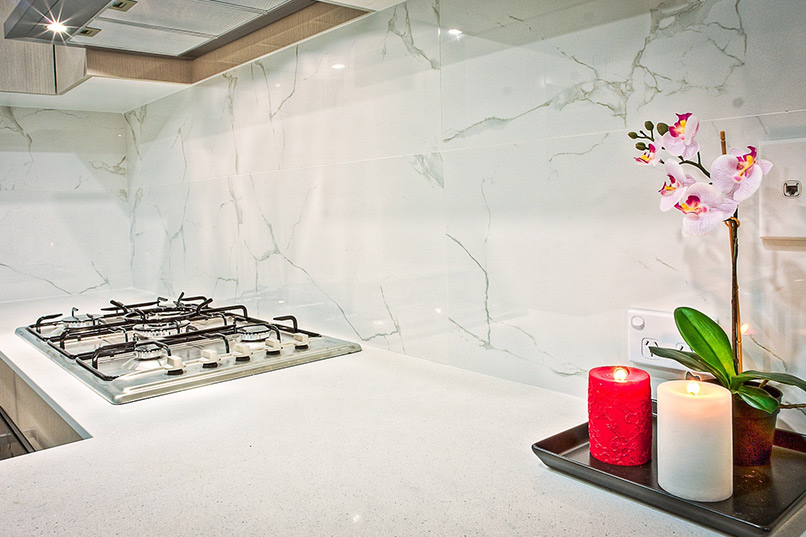 Countertops are truly the unsung hero of your home, enduring all kinds of mess and duress like drops, spills, and burns. Marble countertops are elegant, bright, lovely to work on and easy to clean. As a premium, natural material, it harmonizes well with the other architectural elements of your space. The stark, bold veining in marble is always unique, and there are countless varieties of edge profiles and designs available to customise your own sophisticated look. Marble can be incorporated in several different ways in the kitchen including counters, cabinets, shelves and backsplashes.
If you're interested in luxury custom homes and kitchens, take a look at our designs here, or get in touch here.