A Guide to Moroccan Interior Design
14 September, 2018
We're really excited about the opening of the Casablanca – our latest display home with a fantastic Moroccan themed interior. To help celebrate the launch of this fantastic project we thought we'd give you a bit of a run down on the style of interior design that gives this property such an elegantly mysterious appeal.
If you're interested in injecting a bit of exotic charm into your next interior design project then check out our guide to Moroccan themed interiors. It's all about combining vibrant colours, highly adorned furniture, elegant accessories and gentle lighting to achieve a perfect indoor oasis.
Moroccan Style Furniture
Despite the elaborate style that characterises a lot of Moroccan style interior design elements, the furniture is a relatively simple but highly detailed affair. Look for low set tables and sofas that incorporate mother of pearl inlay, wrought iron scrollwork, ornately carved wood and richly hued upholstery.
Strong Colours
Colour and vibrancy are always the focal point for Moroccan interior design and take their inspiration from the North African landscape. Shades of blue and green invoke the Mediterranean and Atlantic, shimmering silver and gold reflect the searing sands of the Sahara while rich oranges and reds conjure up a vibrant desert sunset.
Lush Fabrics
In keeping with the elaborate tents of desert nomads, fabrics with rich colours and intricate textures are an essential element of Moroccan style interior design. Think lots of throw pillows and cushions and luxurious fabrics draped from surfaces like furniture and window frames.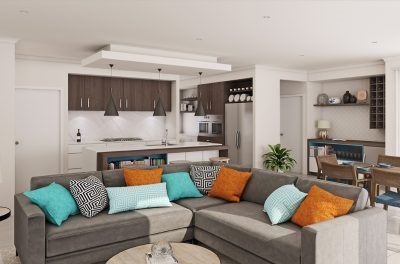 Get Reflective
Strategically placed mirrors help to enhance a Moroccan feel by subtly reflecting light and adding an extra layer of ornate decoration. Look for examples that have decoratively wrought ironwork, carved wood and metal or jewel embellishments on their frames for a really authentic feel.
Moroccan Flooring
A combination of dark hardwood flooring, plush rugs, stacked floor cushions and earthy ceramic tiles is what you're after. Play around with different combinations to achieve the exact effect that suits your space.
Bring the Oasis Inside
Large, colourful pots or hanging baskets full of exotic lush green plants will help to add that oasis-like feel.
Lighting
As with all interior design, lighting is extremely important. Moroccan style interior design tends toward the dim effect created by lamps and pendants made from coloured glass, cut metal and carved wood. Adding candles in traditional lamps can also help to add an extra element of moving light.
To see these fantastic style elements in action for yourself make sure you come down and check out the Casablanca for yourself.
Be sure to get in touch with us today to find out more!
Phone: 9303 9985
Email: [email protected]