Amazing Home Elevations to Inspire You
3 April, 2019
If you're in the process of planning your new home build, not having any idea of where to start can be a daunting scenario. Having a design plan to work from is a very good idea, but if you don't have one in mind, don't worry! At Inspired Homes, we have a plethora of beautiful home elevations to choose from. If you're looking for some home building inspiration, here are some of our favourites for you to check out.
San Marino Residence
The San Marino Residence has a sleek exterior that exudes a luxurious and contemporary feel. The Colorbond skillion roof adds to the character of the home providing an ultra-modern touch. It has feature walls with contrasting renders and a central feature pier measuring approx. 7.4m in height. Selected cladding gives an extra element to this eye-catching and durable exterior.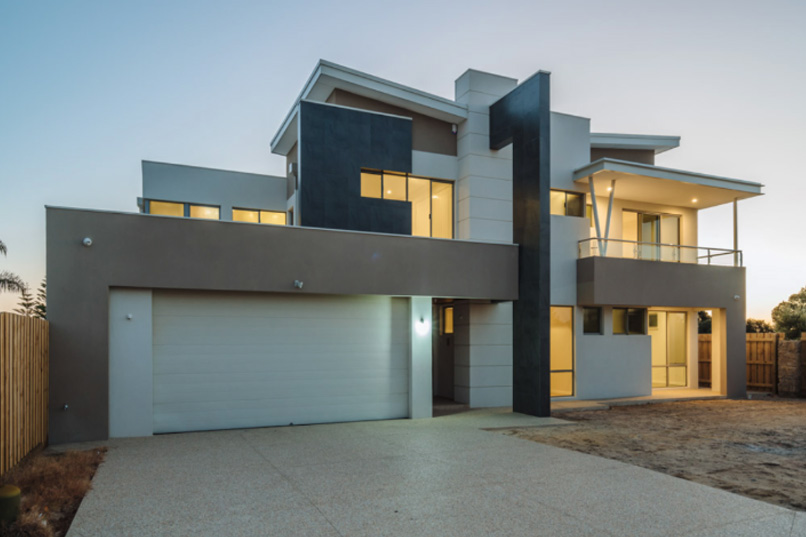 Ranelagh Residence
We love how this elevation is modern in appearance yet emanates a timeless feel thanks to the contrast renders in earthy tones. The Ranelagh Residence has a concealed trim deck roof that manages rainwater effectively, and a timber cladded feature wall, both of which provide durability to its structure. Custom screen walls installed to the balcony add a stylish and functional use proving privacy.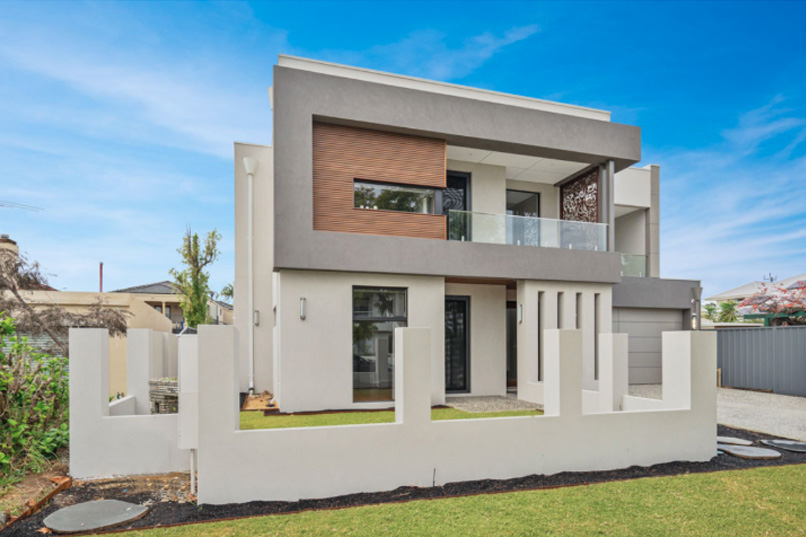 Jolimont
The Jolimont Project is the ultimate modern design, perfect for urban dwellers who thrive in a contemporary setting. The reverse living design in this elevation maximises the surrounding views, and the stacker doors to the balcony make it easily accessible. Raked ceilings provides a sense of openness and volume. Outside, washed aggregate paths, a built in letterbox and an ultra-modern skillion roof complete this stunning exterior design.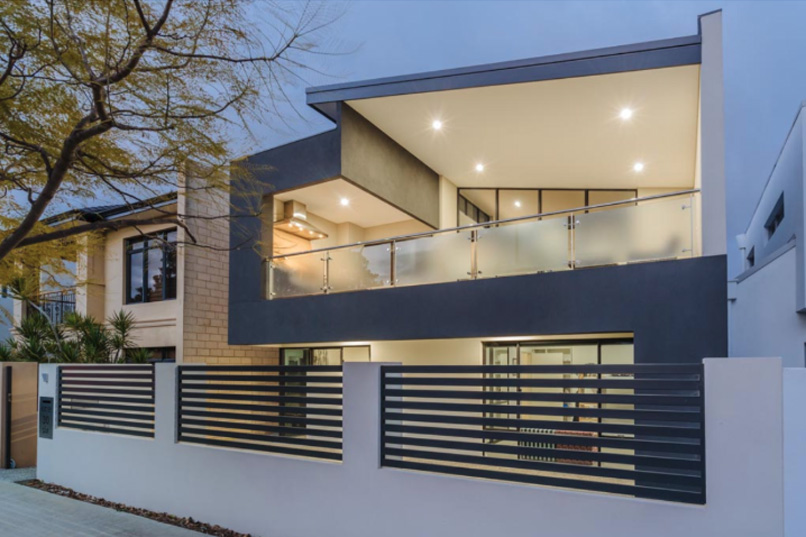 Floreat
We like to describe this elevation as minimalistic, but that doesn't in any way detract from its unique aesthetic appeal. The repetition and asymmetry of windows creates interest while the contrasting render of the Umbra feature gives provides a uniquely eye-catching feature. A concealed trim deck roof has also been used to add to the sense of minimalist chic.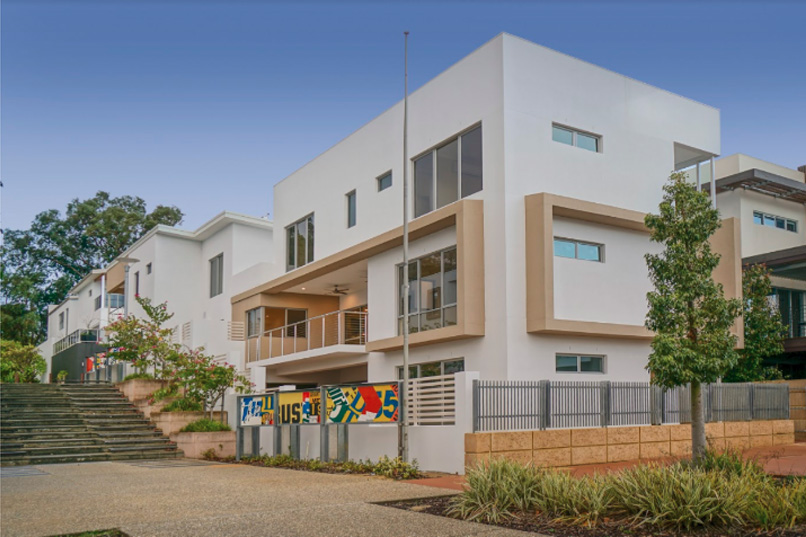 Grayson
This Hamptons inspired elevation just screams out cosiness. Our Grayson Display Home is cladded with feature stone, James Hardie Weatherboard Sycon Linea, contrasting renders and boxed eaves that lend to its classic look while protecting the integrity of its structure against weather damage. At the same time, the round gable vent and awning windows promotes ventilation throughout the house.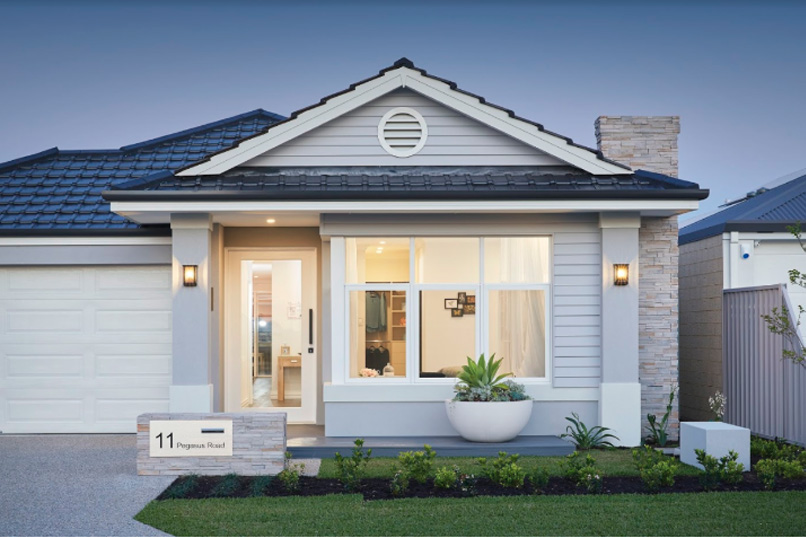 Casablanca
This contemporary inspired elevation uses rich textures, including wood look tiles for a polished and luxurious finish. The contrasting renders and natural timber used here are subtle, yet adds and undeniable extra element to its exotic charm.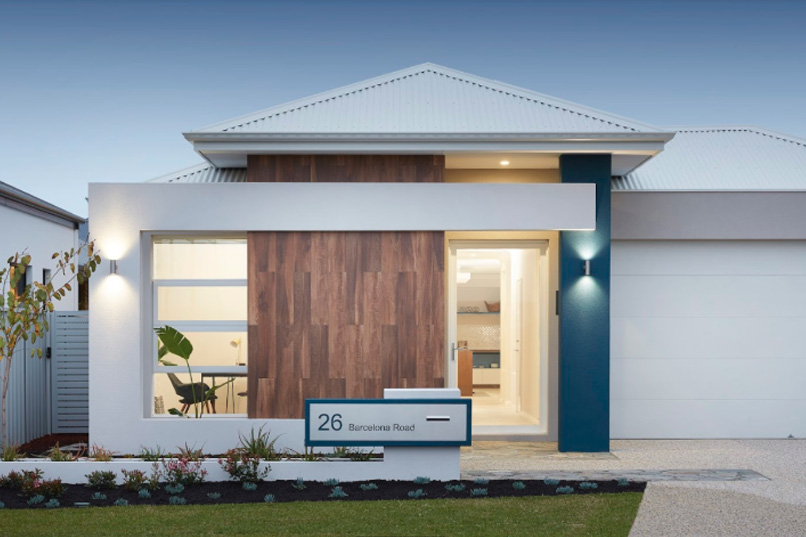 Be sure to get in touch with us today to find out more!
Phone: 9303 9985
Email: [email protected]