Current Design Trends
10 July, 2017
Over the last ten years Inspired Homes have seen design trends appear and disappear but one thing we've noticed that hasn't changed over time is the resilience and durability of high quality materials.
At Inspired Homes we pay particular attention to what's going on in the design world and listening to our customers to identify trends of our own. Our staff think innovatively which has opened so many doors for us when it comes to what we can create and design for our clients.
Contemporary Industrial Aesthetic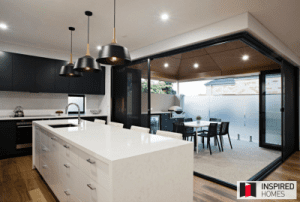 Currently our most popular design requests are centred on a contemporary industrial aesthetic. We're talking about a combination of natural textures like stone, concrete and different woods mixed with infusion of dark finishes like black window frames and light fittings.
One of our favourite builds incorporated all of these design aspects and more! The homeowner wanted bold, straight lines and a good mix of indoor/outdoor living for their entertaining needs. We built their kitchen on solid wood flooring, put in a waterfall edge stone top island bench, surrounded it with black cabinetry and finished it off nicely with stainless steel appliances. Then we brought the outdoors indoors with collapsible glass doors (with black frames, of course!), we continued the black cabinetry from the kitchen out into the alfresco area to create an incredible outdoor kitchen, poured concrete floor and lined the ceiling in timber. Honestly, it's amazing! Once the doors are open you feel like you're in one big stylish, spacious room.
Aside from this, we have seen a shift towards more eco-friendly built homes to cater for the environmentally conscious home builder. We've currently got homes under construction using the revolutionary MasterWall system, which is reliable and sustainable alternative to the original Australian favourite, bricks and mortar. From slab down we can get your single storey house up within 16 weeks or 20 for a double storey! There's also the option to install power walls on any build which will keep your energy bills down.
We believe that as builders our job is not just to build homes, but to build them complete. Which means that all of our builds from house and land packages to custom, luxury builds are all high quality, style turn-key ready so all you need to do is book in the movers and more sure they don't chip your freshly painted walls.
Be sure to get in touch with us today to find out more!
Phone: 9303 9985
Email: [email protected]