The Nuts and Bolts of Modern Interior Design
Further to our Contemporary Interior Design Guide we thought there's no better time to talk about its cousin, Modern Interior Design.
With a huge focus on function, modern interior design is clean, stylish and very popular and it's also the easiest type of interior design that is able to be personalised. Here are our top four tips to help you bring Modern Interior design to life in your home.
1. Keep it Simple
By this we don't mean only the essentials, we just mean that you will need to keep your space as clutter free as possible. So think of clean lines, polished and smooth surfaces and neutral colour tones.
Studies have actually shown that clutter can lead to stress so let us help you make your life a little less stressful.
2. Function is Key
This sounds obvious but we often find that when we're helping our clients design their houses, interior design can sometimes overtake the functionality of your rooms. So remember that things in each room should always remain easy to access. Let's use your Kitchen as an example, you want to keep your bench tops as clutter free as possible so your workspace is not cluttered, just like you should keep the kettle close to the tap and the cutlery close to the dinnerware.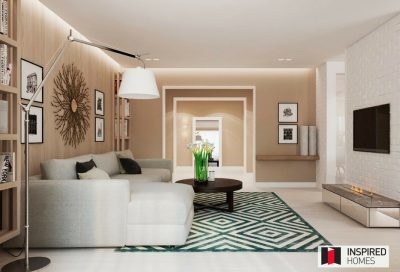 3. Get Teched Up!
Technology is the new artwork in Modern Design homes. Make sure your TV is streamlined, the DVD player matches your finishing's and your computers as thin as possible. You don't need to spend a fortune buying top-of-the-line products, but you want your electronics to stand out and fit in as much as possible.
4. Add Some Character
Now that your space is full of clean lines and has been de-cluttered it's time to make the space your own. Add some colour to your neutral colour palette by introducing a throw rug or some cushions. A great way to carry this pop of colour through your home is by placing photos or subtle accessories in key areas of your home.
Currently Modern Interior Design is our favourite style to work with. Because it is so versatile and easily customised it is not difficult to redesign your existing house around these guidelines.
Be sure to get in touch with us today to find out more!
Phone: 9303 9985
Email: [email protected]