Top 5 Must-Have Features Every New Home Should Have in 2020
25 February, 2020
Your home is where you spend most of your time. It's where you unwind after work, spend time with your family, entertain friends and create treasured memories.
As such, it makes sense that you'd want your home to be as comfortable, convenient, functional and stylish as possible. To help you achieve this, we've put together a list of 5 must-have features that every home should have in 2020.
If you're looking to build a new home soon, or are planning on renovating your existing property, make sure you read the rest of this post so that you'll end up with a living space that you'll love coming home to.
A Modern Kitchen
With more homes having open kitchens connected to the living room, the kitchen isn't just a functional area to prepare food in – it's become an important living space. That's why a truly desirable home should have a modern kitchen filled with the kind of appliances and workspaces that are going to improve your lifestyle.
A large island bench is a great addition to any kitchen. You can use it to prepare food, have meals and entertain guests. Other features you can consider are soft-close drawers and doors, hidden cabinets, and even a concealed butler's pantry.
Designer Lighting
Using lighting correctly can help you customise the mood in your home's interior spaces. Indirect lighting installed in the ceiling or behind wall panels can distribute light evenly throughout a room and help to reduce glare. It's also great for creating different moods, especially if you have a dimmer to control them.
Other lighting ideas you can consider:
Integrated lighting for staircase steps and handrails
Internal LED lighting for kitchen cabinets and wardrobe
LED light strips for bathroom mirror and cabinets
LED downlights that highlight artwork around the house
While it might not be the first thing that comes to mind when you think of high-priority features, you'd be amazed at the impact that some quality designer lighting can have.
Alfresco Living & Dining Space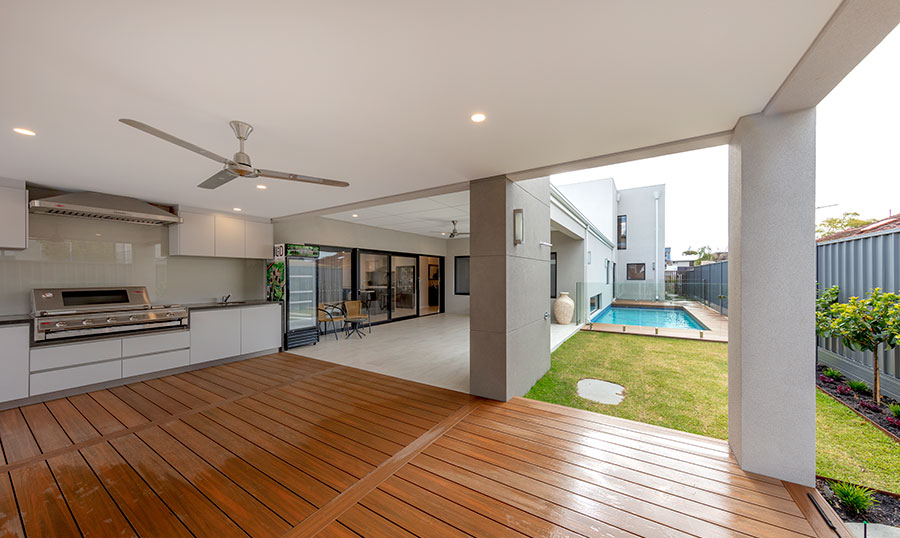 Alfresco dining is a favourite pastime in Australia. With a dedicated alfresco area, you can enjoy the outdoor breeze and make the most of your space for entertaining.
To make your alfresco area an easy space to use, consider decking it out with everything you need for a party. These include a barbecue pit, benchtop, sink and bar fridge.
You might want to install a fan or two to keep yourself cool when there's no breeze. A home entertainment system with speakers and custom lighting can also turn the space into somewhere you'd want to hang out every night.
Smart Device Integration
Smart devices that use IoT (internet of things) technology can give you quick control of your home systems and make life easy. You can use smart home systems from Google, Amazon and Apple to connect to a whole host of things in your home including entertainment systems, lights, automatic blinds, air conditioning and mobile devices.
If you're not ready to have a fully connected smart home, you can still use smart devices such as programmable heating and cooling systems, smart locks and alarm, and even Wi-Fi-connected refrigerators.
A Mudroom
A mudroom is such a simple space that people often don't give a second thought to it. However, it provides excellent utility when you need a place to hang your coat or store your muddy shoes.
It's usually positioned between the garage and the main home. The mudroom doesn't have to be big, it just needs enough space to store your shoes and jacket, a bench, and a mirror for final wardrobe checking before you leave.
Here at Inspired Homes, we take great pride in designing and building fantastic houses full of all of the features that you need to live your ideal lifestyle in safety, comfort and style.
Be sure to get in touch with us today to find out more!
Phone: 9303 9985
Email: [email protected]