Want a Celebrity Style Luxury Bathroom? The 5 Elements You Need to Pull it Off
Mention the term "luxury home" and most people would think of things like swimming pools, home cinemas and numerous guest bedrooms. But in all honesty, even if you had these things, how much would you use them?
Your bathroom, on the other hand, is one of the most used spaces in your home. Most people use their bathroom at least twice a day, so if you're looking to invest in some luxury that you're really going to appreciate, then your bathroom is an excellent place to start.
Besides, how do you think that celebrities always look so good? It's because their homes have amazing bathrooms to get ready in!
If you want a celebrity style luxury bathroom in which to make yourself look like a million dollars, make sure you check out the rest of this blog post to learn about the 5 bathroom elements you need to make it happen.
Choosing the Right Flooring and Walls
These are the biggest spaces in your bathroom, so getting them right is vital if you're going to build a bathroom that an A-lister would feel comfortable in.
For flooring, stylish and timeless materials like ceramic, glass, marble and stone tiles are great for giving a sophisticated look. They're also water resistant and durable, so they'll continue to look great for years to come.
The walls should be chosen to compliment your flooring. Generally plain colours like white or black work best, but you can also add some painted or embossed tiles for a bit of texture and colour (as long as you're a confident enough designer to pull it off! If not, staying simple and elegant is your best option).
Choosing the Right Fixtures & Fittings
This is the part where style meets functionality. You want things that are going to look sensational while also maximising comfort and convenience. It's also important that each element is carefully chosen to give a coherent look to the styling of your space.
This includes elements like:
The toilet
The bathroom sink (a double sink is a must for a truly luxurious feel)
Stylish and spacious cabinets
Bathroom furniture
Bathroom fabrics (like towels and curtains)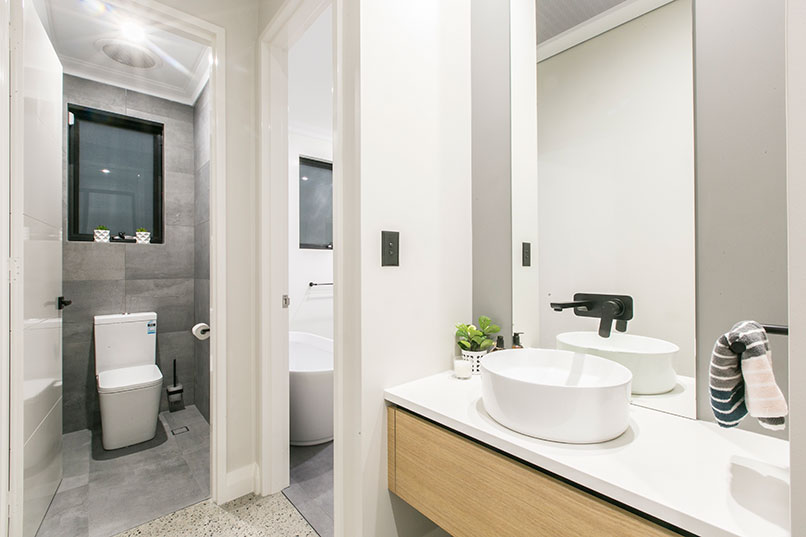 A Spacious Shower
Is there anything more luxurious than a long, hot shower in a space that you can really stretch out and enjoy yourself? To really give your bathroom that celebrity vibe, opt for a walk-in shower with glass door and a waterfall style showerhead. (Bonus points can also be gained by throwing in a white robe or two to make every day feel like a stay in a 5-star hotel.)
Great Lighting
A truly luxurious bathroom is all about achieving the right mood, and lighting plays a huge part in this. It has to be bright enough to make the space useable but also defused enough to set the right tone (do you think George Clooney's bathroom is full of blindingly bright white fluorescents?).
A chandelier or a small table lamp can be a great way of adding an extra element to your bathroom lighting.
A Spa Look
Try channelling the vibe of your favourite day spa (because what is a day spa but one huge luxury bathroom?) You want it to simply ooze relaxing sophistication. Adding a jacuzzi or an adjustable massage shower can really help to achieve this look and feel.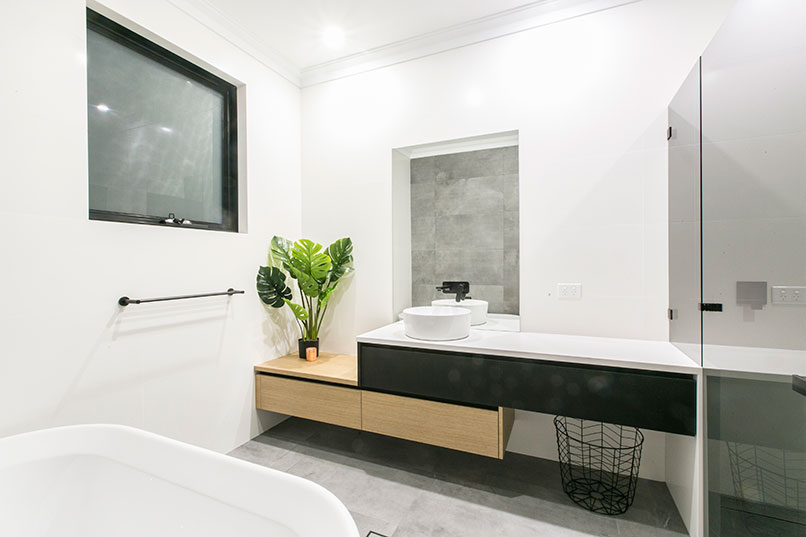 Now that you know what it takes to design a luxurious celebrity style bathroom, all you need is a fantastic new home to put it in. Luckily for you, we can help you with that!
Be sure to get in touch with us today to find out more!
Phone: 9303 9985
Email: [email protected]